Full Keyboard
With Tap you can type any letter, number, symbol or command just by tapping your fingers – allowing you to navigate and control your iPad using any surface. Tap is one-handed and can input up to 110 words per minute. 
Tap pairs easily to any Bluetooth device and is extremely fast, (users have exceeded 70 WPM with one hand). It is easy to master and takes just 90 minutes to learn. Using Tap, you can completely control your iPad and enter text in a natural, effective and healthy manner
1,000 DPI Optical Mouse
Resting your hand on a surface instantly turns Tap into an optical laser mouse with 1,000 DPI precision. You can also use iPad specific clicks and shortcuts to get to the home screen, select your favorite apps, draw and even launch the app switcher.
When you are ready to type again, simply lift your thumb up and you are ready to go. This makes your workflow seamless and simple.
Revolutionary AirMouse
AirMouse is a futuristic way to control your iPad using Tap's built-in gesture controls. It is the first plug-and-play gesture device that can be used natively with iOS phones and tablets. With AirMouse, you can scroll vertically and horizontally, launch apps, activate shortcuts, switch apps, swipe, and search – all by using intuitive hand gestures. AirMouse also has media and SmartTV modes for controlling your favorite music apps remotely.
Want to try it on your other devices? The Tap AirMouse will work with any device that supports mouse input via bluetooth 4.0, including laptops, smartTVs and VR headsets!
Animate With Tap
Using Tap with your tablet is an excellent way for artists, animators, and creatives of any level to be more productive without sacrificing portability. It is fully customizable and can be used in conjunction with any existing app or software that supports mouse, keyboard, or swiping functions. It's one-handed design also allows animators to create in conjunction with their existing stylus or other tools seamlessly.
100% Portable
Carry all of the power of an office setup in the palm of your hand. All you need is your iPad and your Tap, and you have a fully functional workstation that takes up less space than a water bottle. With a 10 hour battery life and charging case with a built in battery, Tap will allow you to work with freedom for weeks before needing to be recharged. Tap weighs less than 1lb and is travel safe for wherever your work may take you.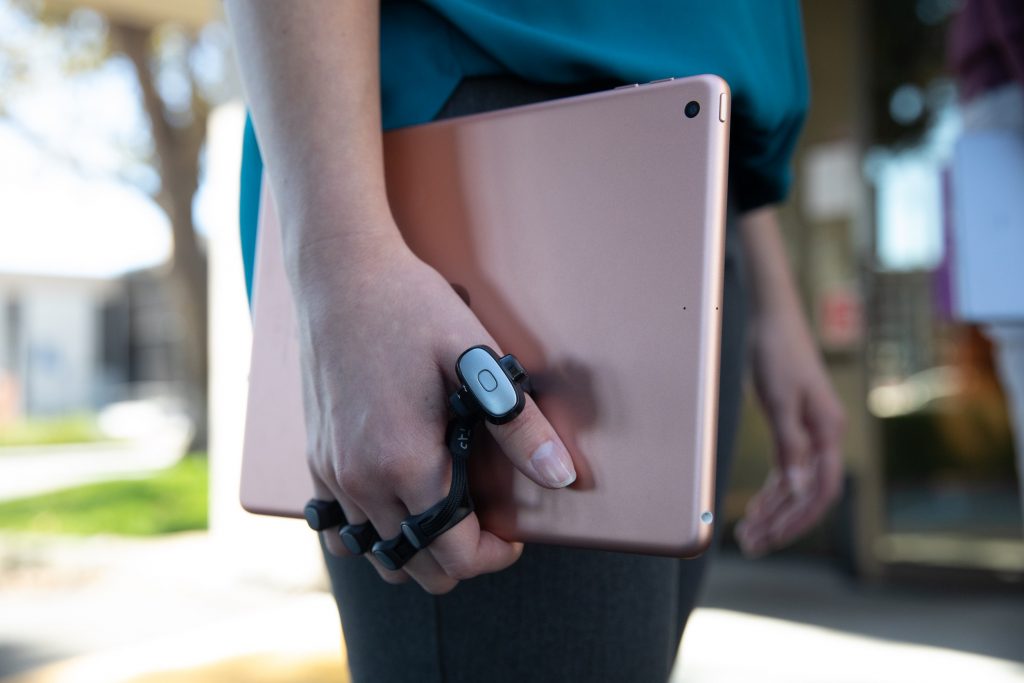 Truly Ergonomic
Tap allows you to put your iPad where you want and control it with relaxed, comfortable Tap gestures. This eliminates the need to hunch over to type or draw on your tablet, allowing you to work in a position that is natural for your body.
You can type laying down, standing, on a plane, or in any other on-the-go situation with comfort and ease – you can even type vertically on a wall or other angled surface.
See what is going on around you
Tap uses tactile touch to input letters and other commands, meaning you'll never have to look at your fingers while typing. You can take notes and control your iPad while staying focused on your surroundings.
Work in portrait mode
Did you know that most documents and webpages are optimized to be viewed in portrait mode? Unlike bluetooth and iPad keyboard covers that are designed to be used in landscape mode, Tap let's you work in portrait mode for a more aesthetic experience.
Fingerprint Free
Whether you want to avoid smudging or scratching your iPad screen, or you are working with messy hands, Tap is a great way to protect your investment. Our touch-free design will let you keep your tablet's screen looking brand new.