BEHOLD Tap
The World's First
Wearable Keyboard
Do you love your devices?  
Of course you do! From cellphones to smart TVs, we are always connected – but sometimes using our devices can be a bit of a challenge. Have you ever tried typing on your tablet during a small space commute? Or tried texting while walking, talking or taking notes? What about typing a password in on your smart TV or when in VR using tiny controllers? Not to mention the back, neck, and wrist pain we can experience from typing all day…
That's where Tap comes in! Tap is a revolutionary new input device that puts a keyboard in the palm of your hand – literally. You wear it over your fingers and input text using simple finger Taps in a position comfortable for your body. Tap allows you to turn any surface into your workstation, so you no longer have to adjust to uncomfortable typing.
A New Ergonomic Approach To Modern Typing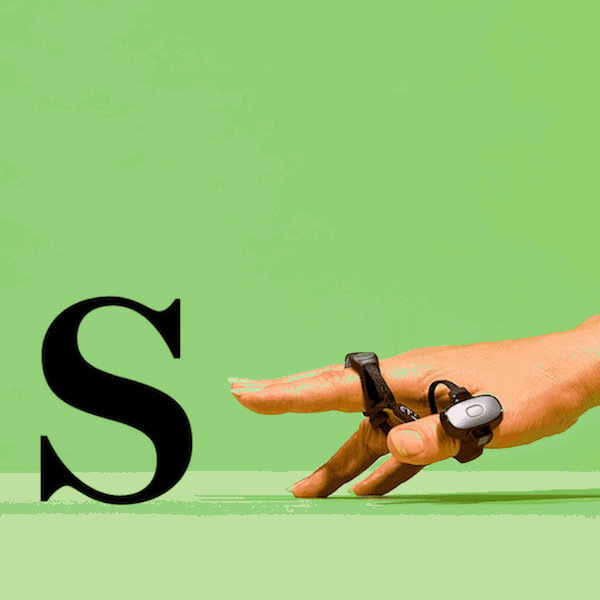 Tap uses its own alphabet that uses key chords (like a piano) instead of 1 to 1 finger mappings. Letters are grouped logically by commonality, so it's much more intuitive than a traditional QWERTY keyboard. Tap takes just 90 minutes to learn using our learning game, TapGenius. This is about 1/4 the time it takes the average person to touch type – and more than 95% of people who use a traditional keyboard EVERYDAY still have to look at their fingers when typing. We worked with Stanford memory scientists to make sure learning was fast and fun. Tap take significantly less time to learn than touch typing and is an ergonomic solution for any environment – plus it feels totally bada** wearing the futuristic strap. 
The Tap lasts for 8 hours of use and 7 days standby, making it a powerful tool for your workday and beyond.
Unlike other Keyboards – when using Tap you are not looking for any keys.
Tap is NOT A VIRTUAL KEYBOARD. It does not display any keys on the surface. Instead – To input with Tap you must memorize simple to learn finger combinations that correspond to your different inputs.
In order to detect the different combinations, Tap uses data that comes from 5 accelerometers (one ontop of each finger) to detect acceleration, deceleration and hard stops (among many other parameters)
What can you do with Tap?
Tap works with nearly every Bluetooth enable device that accepts HID input and is an ideal product for:
Text input

Multi-faceted ergonomic solution

Portable keyboarding

True touch typing

And much more
Tap is compatible with the following type of products that accept Bluetooth and HID inputs:
Smartphones
Tablets
Personal Computers (PC's)
Laptops
Projectors
SmartTV's
Virtual Reality headsets
Augmented Reality glasses
Mixed Reality headsets
Tap requires the following operating systems to work seamlessly:
iOS 9.0+
Android 5.0+
OSX Yosemite+
Windows 8.1+
Linux Ubuntu
What are some of the benefits of using Tap?
Tap was built to answer the question of input – why hadn't the way we type evolved with technology?
Not only is Tap a logical step forward in how we interact with our devices, it is also an ergonomic solution to spending a lot of time typing.
By taking stress off your median nerve, Tap allows for hours of typing without the pain associated.
Tap is also completely portable and can fit in your pocket.
Can Tap be used on Both Hands?
It is possible to connect two Taps to one device and each will work as an independent keyboard.
Do I need to Use a Tap on Each Hand?
Tap is a one-handed solution that can be worn on either your left or right hand. You will only need one to type all letters, numbers, and symbols.
Can 2 Taps be used in the same time?
You can use two Tap at the same time, but they will act as two unique keyboards. We also have opensource SDKs.
How long does it take to learn to Tap?
You can learn to Tap in just 90 minutes by using the TapGenius Game, available for iOS, Android, and Windows. There are 8 'Tap-Lessons' which are taught via musical and visual tutorials, and are followed by rounds of gameplay. Each lesson takes 5-10 minutes to complete, and most tappers learn the entire alphabet in less time than it takes to see a movie.
Once you have learned the alphabet, we introduce a supplementary application called TapAcademy that is designed to increase your WPM. Using 10 minute daily exercises over a 30 day period, the average tapper will type at 35 WPM. This is significantly less time than it takes to learn on a QWERTY keyboard, and also at a faster WPM than the national average.
How Fast Can You Type With Tap?
Tap can register upto 10 actions per second, that means the technical limit is 120 Words Per Minute with one hand!
Most people reach 30-40 Words Per Minute within their first 30 days by practicing 10 minutes / day with TapAcademy.
For comparison this is 8 times faster than learning QWERTY!
Here is a video of a user that reached 62 Words Per Minute within 3 weeks of practice:
The best part about Tap is its versatility. First and foremost it's an input tool – an all-in-one controller designed to make your life easier.
Some tappers are professionals who use Tap for a wide berth of uses including presentation control, note taking, and controlling commercial applications. Others are users who have suffered with endless back or wrist pain associated with traditional typing and have spent thousands of dollars on "ergonomic" solutions that just don't work. There is no limit to the text input capabilities of Tap thanks to it's ability to be used on any surface.
Tap is also fully accessible and can be used to active VoiceOver controls to give blind and low-vision users control over their phone and provide a more discrete way to text. It's fully contained on one hand, so users with limited mobility can type with ease.
What Reviewers Are Saying:
What Customers Are Saying:




What the media are saying:
Look, Ma, One Hand: Typing Gets a Makeover – https://www.wsj.com/articles/look-ma-one-hand-typing-gets-a-makeover-1536328816?ns=prod/accounts-wsj

Tapped out with traditional typing? This new wearable might provide a situational solution. –

https://www.macworld.com/article/3265727/input-keyboards/the-tap-an-ipad-keyboard-without-the-actual-keyboard.html

This wearable device can turn any surface into a keyboard – https://mashable.com/2017/02/02/wearable-surface-keyboard/#o1AS0jAiOiqz

New gadgets make the whole world your keyboard – https://www.zdnet.com/article/new-gadgets-make-the-whole-world-your-keyboard/

Tap's wearable keyboard makes typing in VR applications a breeze

– https://www.engadget.com/2018/09/20/taps-wearable-keyboard-typing-VR-applications-productivity/

Forget the slow and cumbersome virtual keyboards we have to use in virtual and mixed reality settings, instead slide Tap on to one of your hands and just start typing on any surface. It also doubles as a mouse – https://www.pcmag.com/news/363902/tap-demos-its-wearable-keyboard-and-mouse
Tap is only $199 USD and includes free shipping worldwide. 
1 x All-In-One Tap Strap
Wearable Keyboard, Mouse & Controller
Made out of Soft Touch TPU
8 Hours of Operation
Splash Proof
Comes in size Large or Small
1 X Magnetic Protective Charging Case
Recharge your Tap via pogo pins
Recharge the case using microUSB (included!)
370ma Internal Battery
Holds enough power to recharge your Tap 8 Times
Fits in most pockets
TapManager Mobile App
(Android & iOS) – Use TapManager to customize your Tap's setting, download the latest firmware updates, and upload your custom maps. This powerful tool has everything you need to make your Tap unique to you.
TapGenius Learning System
(Android, iOS & Windows) – Backed by Stanford language & memory research, TapGenius provides a fast and easy ways to learn the Tap Alphabet. In under 2 hours, you will be tapping all letters, numbers, and symbols – and you'll have fun while doing it!
TapAcademy Learning App
(Android, iOS & Windows) – Once you've mastered the Tap Alphabet, take your tapping skills to the next level with TapAcademy. Designed to boost your WPM, TapAcademy uses 30 days of fun drills and typing games to help you tap even faster. The average tapper doubles their WPM in just 14 days of playing TapAcademy.
TapAloud Mobile App
(Android & iOS) – TapAloud is our TapGenius learning system optimized for blind and low vision users. The system breaks the alphabet into 8 voice-enabled learning lessons and takes 2 hours to learn.
BONUS #1:  FREE TapMaps
We offer a robust suite of custom TapMaps so you can type in other languages or layouts. We provide all TapMaps free of charge via a public gallery, so there's always new ways to use your Tap.
BONUS #2: FREE Access to TapMapper
TapMapper is a FREE re-mapping tool that lets you take your Tap to the next level. With TapMapper, you can turn complex text macros into simple finger taps. There is no limit to what you can do with Tap – other than your own imagination.
Tap comes with a 30 day money back guarantee if you don't absolutely love your device.
Each purchase of Tap includes a 1 year warranty that covers any hardware or software failures. This is free and part of our commitment to honest and transparent technology.
Limited Time Offer – Act NOW!
Completes 30 days of TapAcademy & get a $30 rebate on your order! 
TapAcademy is a super fun WPM game that will increase your tapping speeds. It only takes 10 minutes a day!