How Tap Works: A Detailed Look at the World's Most Advanced Input Device
A Message from the Inventor:
Since we began selling the Tap Strap in 2018, I have been asked many times how this futuristic and seemingly magical technology works.  Tap contains patented and patent-pending breakthroughs in electronics, algorithms, mechanics, design and manufacturing.  Here are tutorial videos and a description of what is under the hood, and how Tap does its magic.
Dovid Schick, CEO, Founder, Tap Systems, Inc.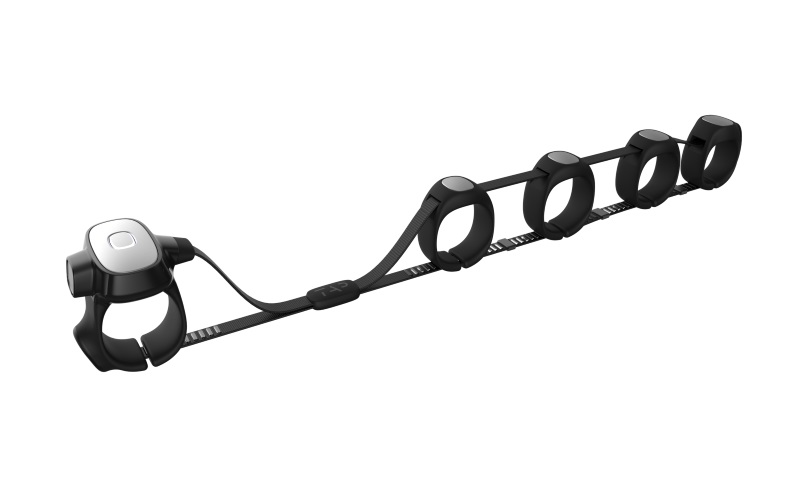 Easily Type In Your Favorite Apps
Wow, It Really Works!
Over the past 2 years, we have exhibited and sold the Tap Strap at trade shows and conferences around the world, from MWC in Barcelona to SXSW in Austin. We have shown Tap to tens of thousands of people – and have a growing community of active users around the world. At every show, attendees crowd around, waiting their turn to try out this new technology. "Wow, this is amazing!", "This is the coolest thing in the whole show!, "This is definitely the keyboard of the future", "If I didn't try it myself, I wouldn't believe that it works."
So what is inside the Tap Keyboard? How does it work? What makes it so new and different than QWERTY? How and why are people using it? Here is an in depth look at what it is, why it is, and how it all works.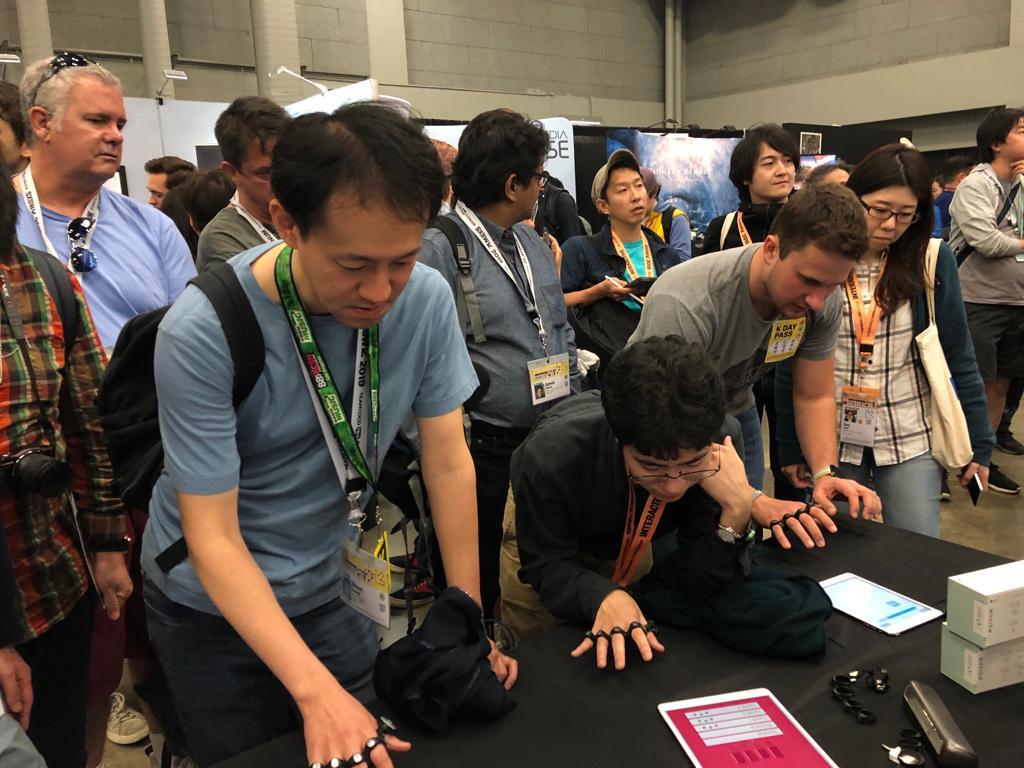 Principle of Operation
The Tap Strap consists of five flexible rings, connected together by strips of braided nylon. Each ring contains a three-axis accelerometer, and the thumb ring also contains a six-axis IMU, an optical mouse chip, haptic element, battery, and circuit board. The nylon braid contains conductors that bring the signals from the sensors to the circuit board, where an MCU collects the data, derives the tap combination, and transmits the information via Bluetooth.
The Tap Strap operates in three modes that are automatically activated based on the position of the users hand. The default mode is Keyboard Mode. When the user rests their thumb on a surface, Tap switches to Mouse Mode, and when the thumb is lifted, it switches back into Keyboard Mode. When the hand is turned so that it is perpendicular to the surface, (like shaking hands), then Tap goes into Air Mouse Mode, and when the hand is turned parallel to the surface, (the palm is facing down), it switches back to Keyboard Mode.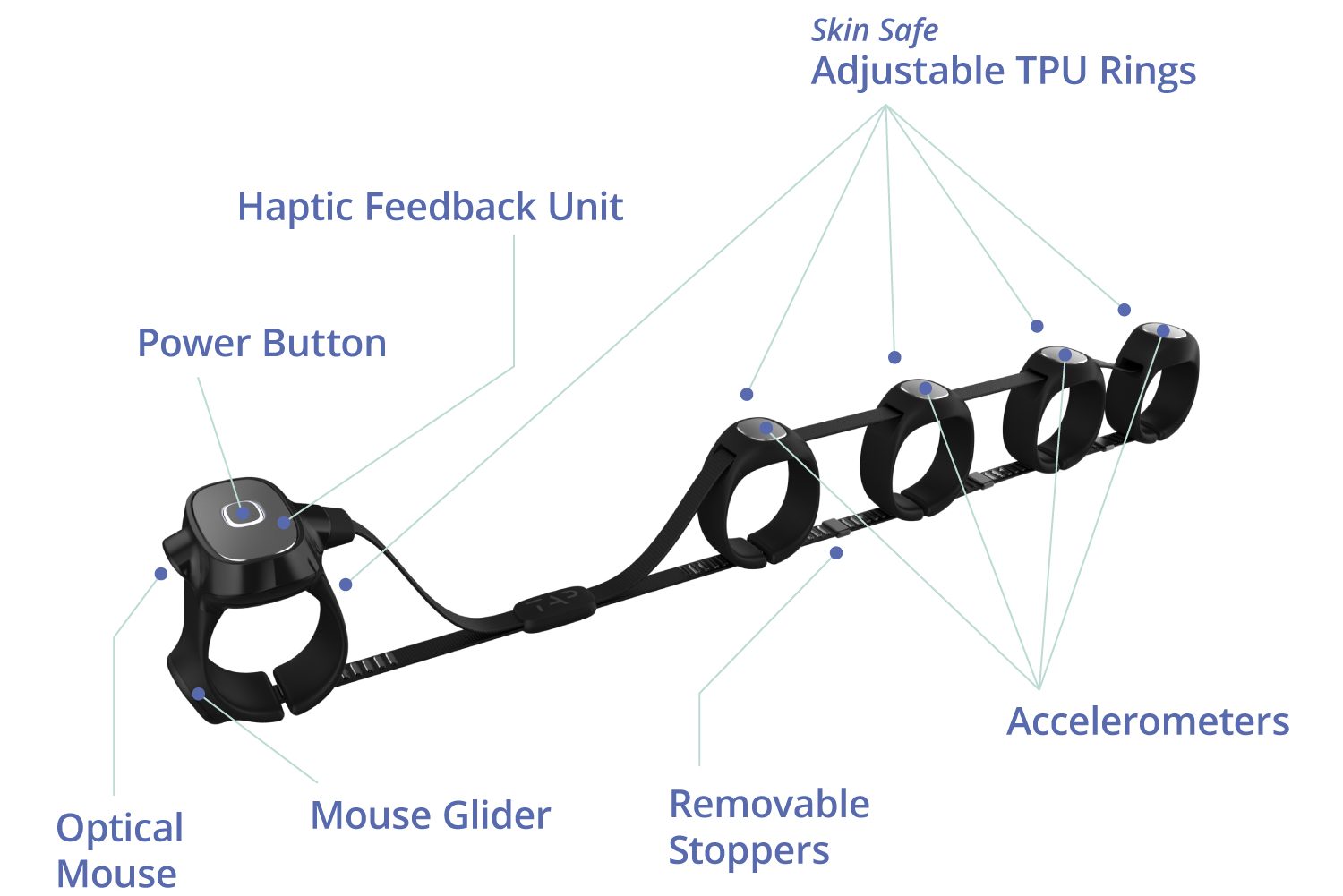 Tapping:
The tapping motion is similar to playing chords on a piano. Each 'chord' corresponds to a character or keyboard command. Some characters – the vowels – require only one finger to tap, while others require multiple fingers to tap at the same time. For example, the most common consonants, N, T, L and S, are tapped with two adjacent fingers. "N" is the thumb and index finger, "T" is the index and middle finger, "L" is the middle and ring finger, and "S" is the ring and pinky. So, to spell the word, "INTO", you would tap the following sequence:

I = Middle Finger
N = Thumb+Index
T = Index+Middle
O = Ring Finger


To tap punctuation and special characters, you use double taps. For example, to tap a comma, you would double tap the letter M. Since there are two M's in the word coMMa, it's a quick way to learn. There are taps for virtually all of the keys on a standard keyboard, and your Tap can also be customized so that you can activate keyboard shortcuts, modifiers and special symbols.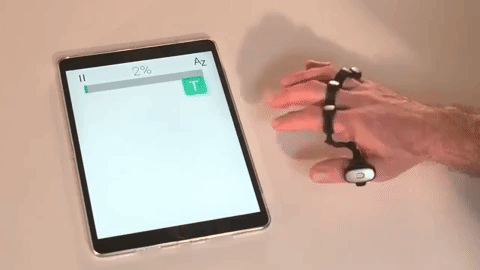 Optical Mouse:
The Tap Strap is also a 1,000 DPI Optical Mouse. A small optical chip is installed in the corner of the thumb ring, which has both a laser and an image sensor. When you place your thumb down on a surface, Tap automatically turns into a mouse. You move the cursor with small movements of your thumb and control the mouse clicks with finger taps. To LEFT CLICK, you tap your index finger, and to RIGHT CLICK, you tap your middle finger. There are clicks for all of the basic mouse commands such as drag-and-drop, and scrolling. When you lift your hand from the surface, Tap automatically turns back into a keyboard for a seamless transition.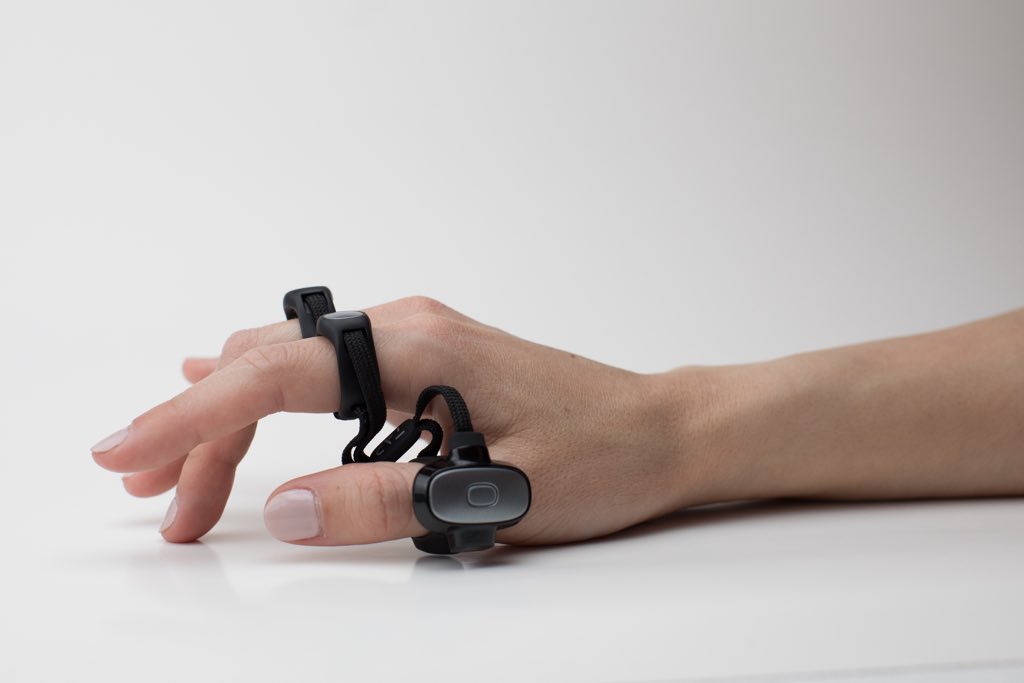 Air Gestures:
In addition to the 3-axis accelerometers in each finger ring, Tap has a 6-axis IMU in the thumb ring. By using both the accelerometers and the IMU, Tap can determine the motion and orientation of the hand, and the position of the fingers. When the hand is held in a 'hand shake' position, Tap will automatically switch to Air Gesture Mode. Air Gesture Mode works with any Bluetooth device that supports a mouse.
In Air Gesture Mode, Tap can emulate a standard mouse, allowing you to move the cursor by moving your hand, and to activate mouse clicks by extending one finger and flicking right and left. You can scroll by extending two fingers and flicking in the direction of the scroll. If you are paired to an iOS device, you can go to the Home screen and to the App Switcher by clicking your thumb and index finger together.
While in Air Gesture mode, you can also activate the Media Controller and Smart TV Controller. The Media Controller allows you to play, pause, skip tracks and adjust volume with simple gestures. The Smart TV Controller works with most popular devices, such as Amazon Firestick, Apple TV, and most Bluetooth BLE television sets. This mode allows you to navigate menus with air gestures, select and go back, and search for content.
What can Developers do with Tap?
Developers can fully customize Tap through our open source SDK's and APIs.
Our SDK's include naitive iOS, Android, Python and Unity Plugin support and allow you to acceess the raw date from with Tap including the acceleromoters the IMU and the optical mouse. It also allows you to read the process data that comes from the Tap strap's internal IMU and allows you to control the haptic element in the thumb.
How Long does it take to Learn to Tap?
Learning to Tap takes about 90 minutes – which is approximately one tenth of the time that it takes to learn to touch-type. The reason it is so much faster is because there is no need to learn the location of any keys – all you need to know are the finger combinations. The fastest way to learn is by playing the TapGenius Learning Game, which takes you through the Tap Alphabet using a series of fast, engaging challenges. TapGenius was designed with the help of Learning Neuroscience specialists at Stanford University. It breaks down the alphabet into eight simple learning groups of taps and each group takes approximately ten minutes to learn. Punctuation is introduced over time in each round, so once you are finished you will know all letters as well as punctuation. Once you have learned the alphabet, our supplementary learning app, TapAcademy, will make you a master tapper with just two to three weeks of playing 10 minutes a day of practice games and speed tests.
How Fast Can I Get?
The fastest verified tapping speed is currently 70 Words per Minute (WPM), which is almost six taps per second with one hand! The average tapper who completes 20 days of TapAcademy can tap at 35 WPM, which is close to the national average speed for touch-typists. Many of our tappers have recorded speeds in the 50's and 60's WPM range. The theoretical limit for tapping speed is 10 taps per second, which is 120 WPM.
What can I do with Tap?
Tap works with nearly every Bluetooth enable device that accepts HID input and is an ideal product for:
Texting on your phone, tablet and computers
Typing up emails, letters, poems, papers
Searching on SmartTV's, Apple TV, Amazon Fire, Virtual Reality, Phones,
Tablets, Computers & Laptops
Editing spreadsheets on laptops, tablets and computers
Controlling PowerPoint Presentation
Navigate around your computer, tablet & smartphones with the mouse unit
Select, Copy, Paste, Drag & Drop files, folders and apps using the mouse
Creating loops and other effects in music product applications
Turning complex macros into simple finger taps
Controlling your favorite videos games on PC and Mac
Controlling CAD Modeling software
And much more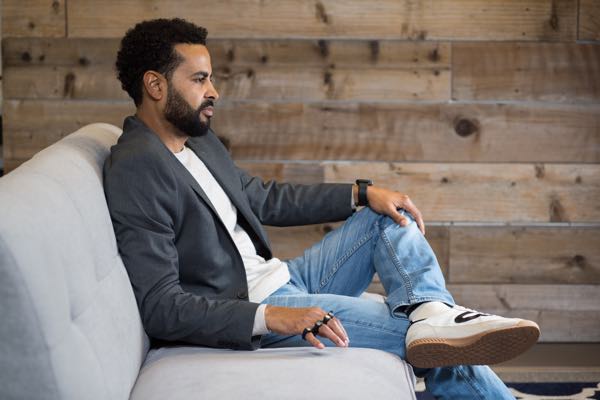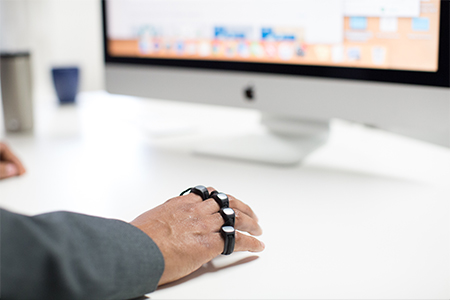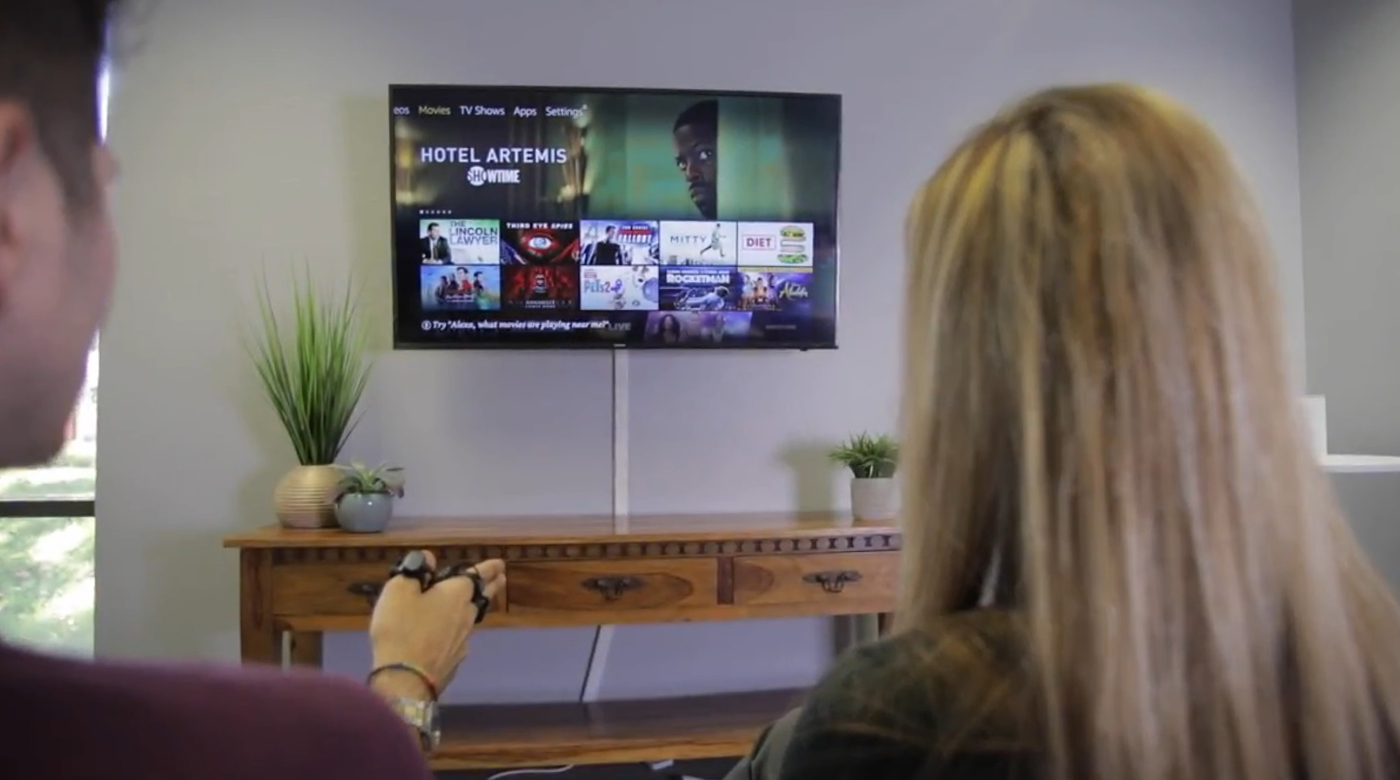 Use Your Tablet Like a Laptop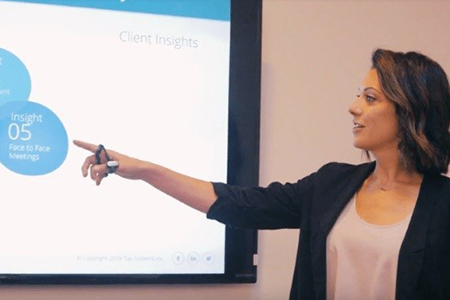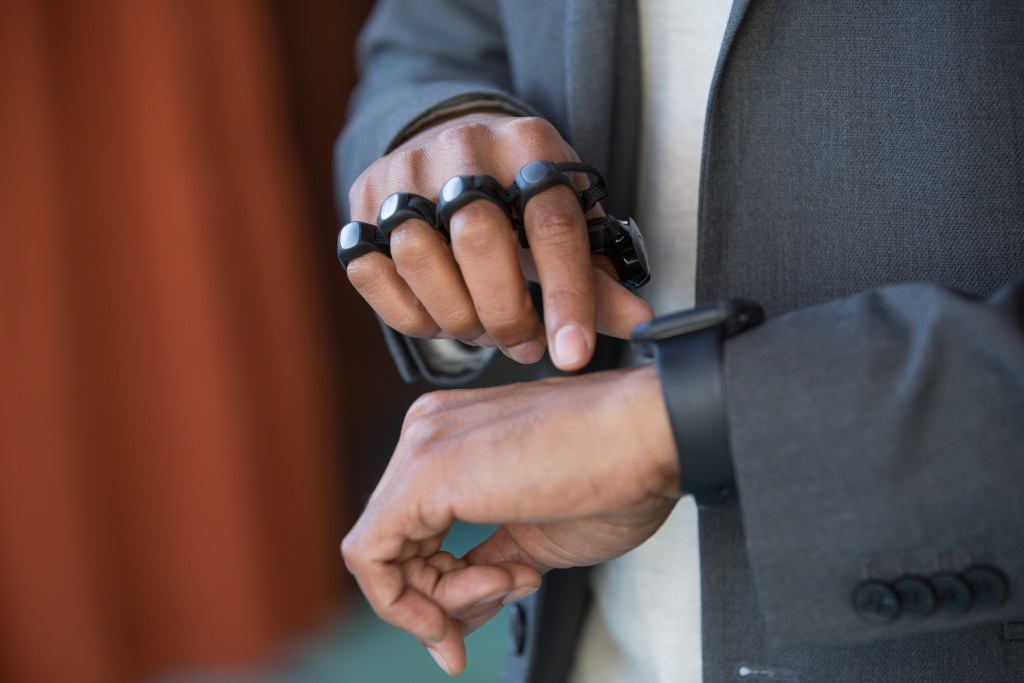 What Can I Use Tap With?
Tap is compatible with the following type of products that accept Bluetooth and HID inputs:
Android & iOS Smartphones
Tablets
Personal Computers (PC's)
Laptops
Projectors
SmartTV's
Apple TV (HD & 4K)
Amazon Fire Stick
Xbox One
Virtual Reality headsets: Oculus Rift, HTC Vive
Augmented Reality headsets: Microsoft Hololens, Epson Moverio
Mixed Reality headsets: Microsoft WMR, MagicLeap
Tap requires the following operating systems to work seamlessly:
iOS 9.0+
Android 5.0+
OSX Yosemite+
Windows 8.1+
Linux Ubuntu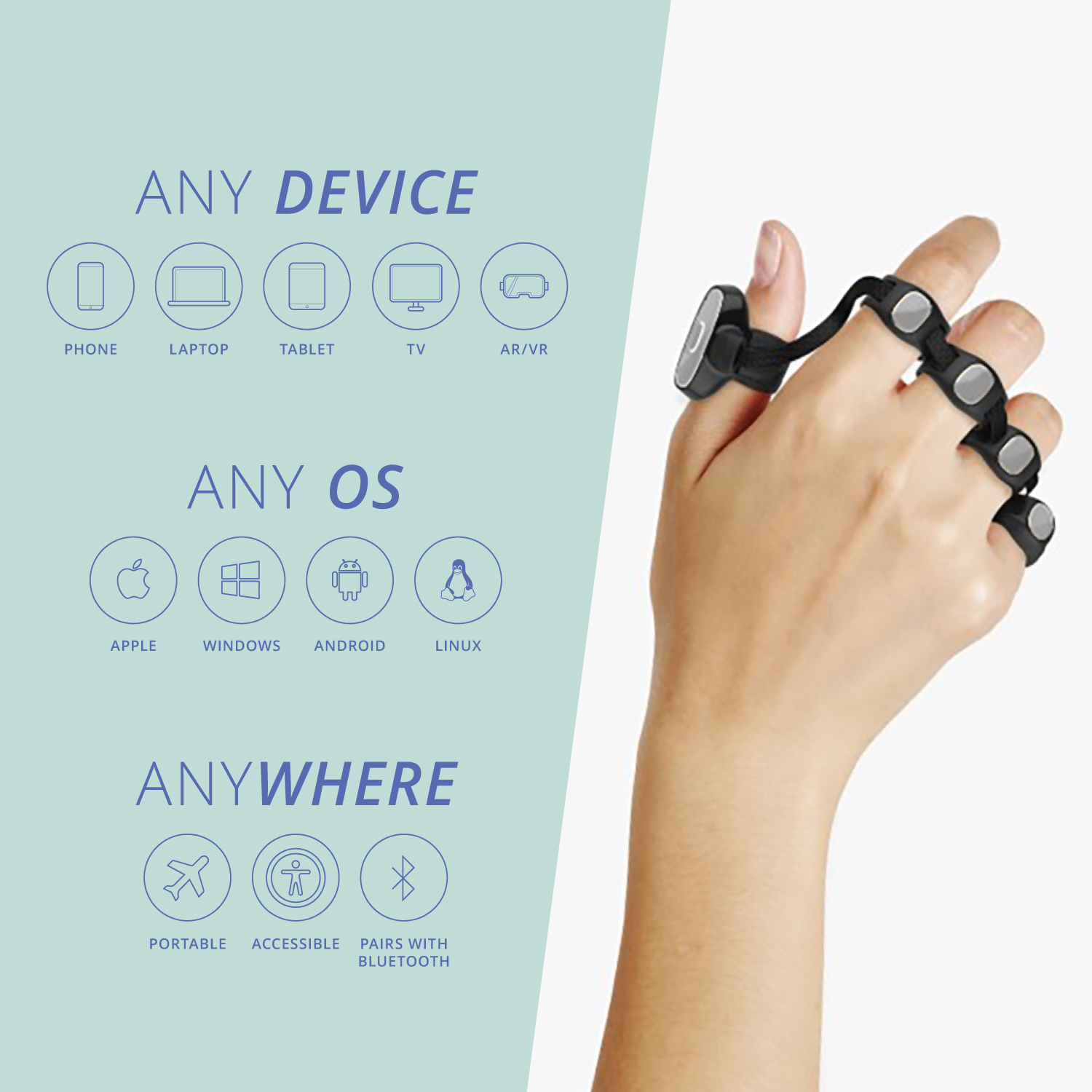 Can Tap Be Used On Either Hands?
Tap can be worn on either your left or right hand. For best results, we recommend that you learn to tap with your dominant hand – once you learn the alphabet, you can tap with either hand without having to re-learn it. By default, the Tap Strap is optimized for right-handed tapping. This can be changed with a setting in the TapManager app, which allows left-hand optimization. If you do not change this setting while tapping with your left hand, the mouse motion will be reversed, and the accuracy will not be as good.
In both right and left hand modes you will be able to input all letters, numbers, and symbols.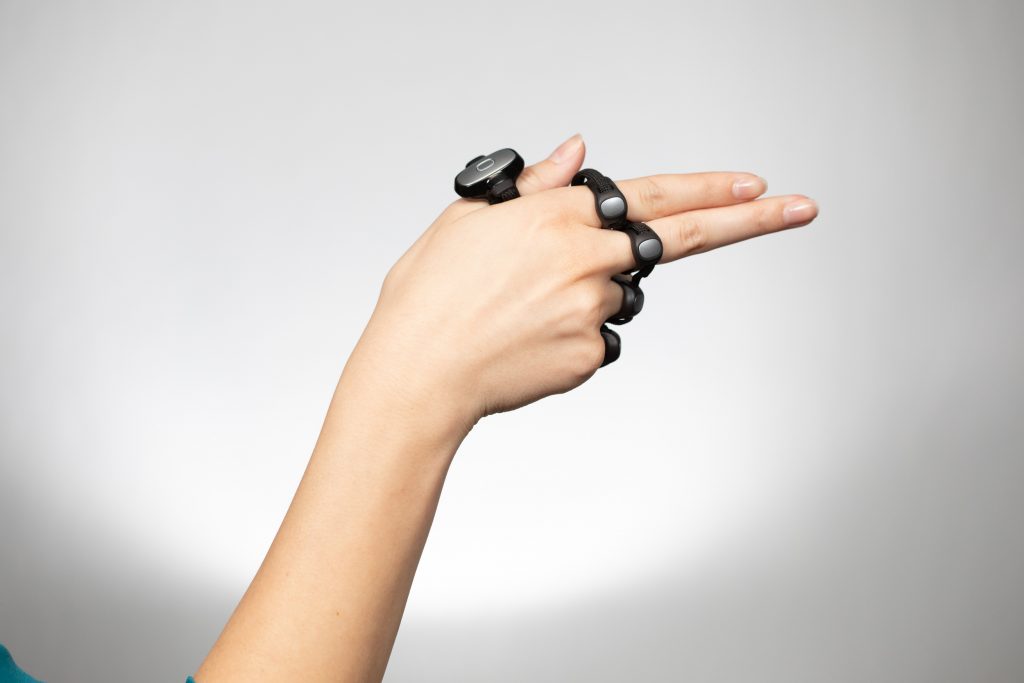 Can Two Taps be used in the same time?
Yes! (though not necessary)
When wearing two Taps that are paired to the same device, they will act as two unique keyboards. Thus you would be able to input from 2 separate devices at the same time.
Some users do so to input with one hand as a keyboard and another as a mouse or special controller.
For example – when coding software you can use one hand to input letters and numbers only, while the other hand inputs punctuation signs, symbols and macros.
Another example is when playing computer & console games – gamers would use one hand to input movement commands while the other hand controls game-play commands and hot key combinations.
Is Tap Really Accurate Enough to be Used as a Keyboard?
We have collected tens of thousands of data points from many users, and, statistically, Tap has a detection accuracy of slightly over 98%. This compares to less than 90% accuracy for smartphone keyboards, and about 92% average accuracy for touch-typing. There are several things that affect tapping accuracy, which should be noted. For best accuracy, the Tap Strap must be worn on your hand in the correct position – at the base of the fingers, and it should be adjusted so that it fits snuggly. The Left/Right setting must be set for the correct hand.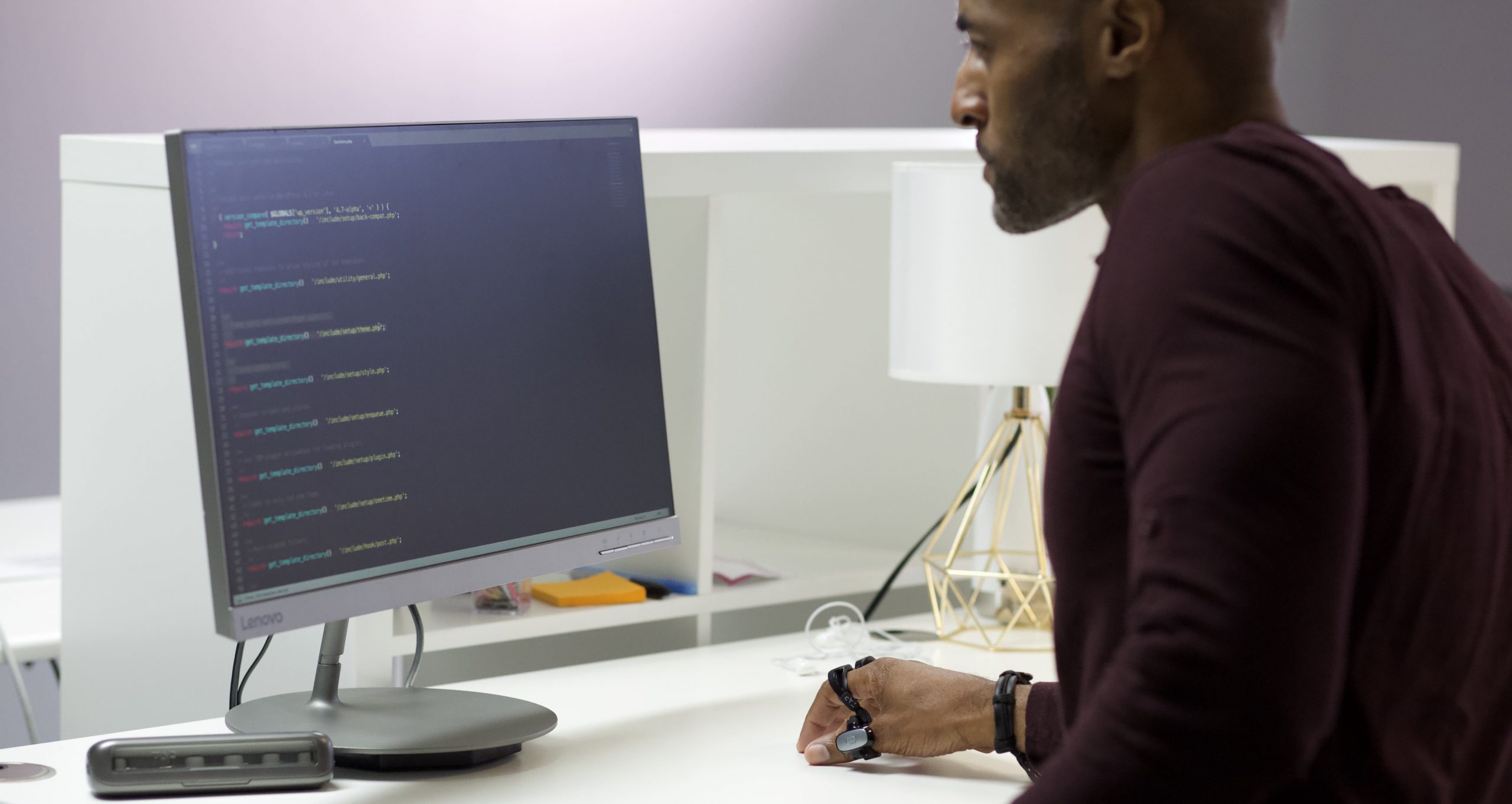 Can I Tap on my Arm or Leg, or Just on Hard Surfaces?
You can tap on any surface that is not too soft or too irregular. You can tap on your arm or leg, or on most cushioned chairs and couches – which is one of the great things about tapping. Note that because these softer surfaces have some 'rebound' effect, the tapping speeds that you can achieve on such surfaces are slightly slower than they are on hard, flat surfaces. It also takes some practice to make consistent taps on a surface that is not flat, so some trial and error may be needed. We recommend that when you start learning to tap, you practice first on a surface like a table or desk.
I Already Know QWERTY – Why Should I Learn To Tap?
QWERTY keyboards are most comfortable to be used when you are at a desk – when you have enough space, and don't have to move around. In this day and age, we do more of our work on our mobile devices, when we must enter complex information on our phones. For these situations, Tap is both faster and more comfortable to use.
If you are a touch typist, you have a great advantage in using QWERTY – but only on your computer. If you are using a phone or tablet, you must use your touchscreen keyboard, which demands that you look at your device while entering text – all of the advantages of touch typing are gone. With Tap, you are a touch typist on all of your devices at all times.
Tap is also a great solution for many of the emerging mobile technologies, such as Augmented and Virtual Reality. These devices can't use QWERTY keyboards, and rely on awkward controllers to slowly enter text. For tappers, entering text on these new systems is just as easy as on their computers and phones.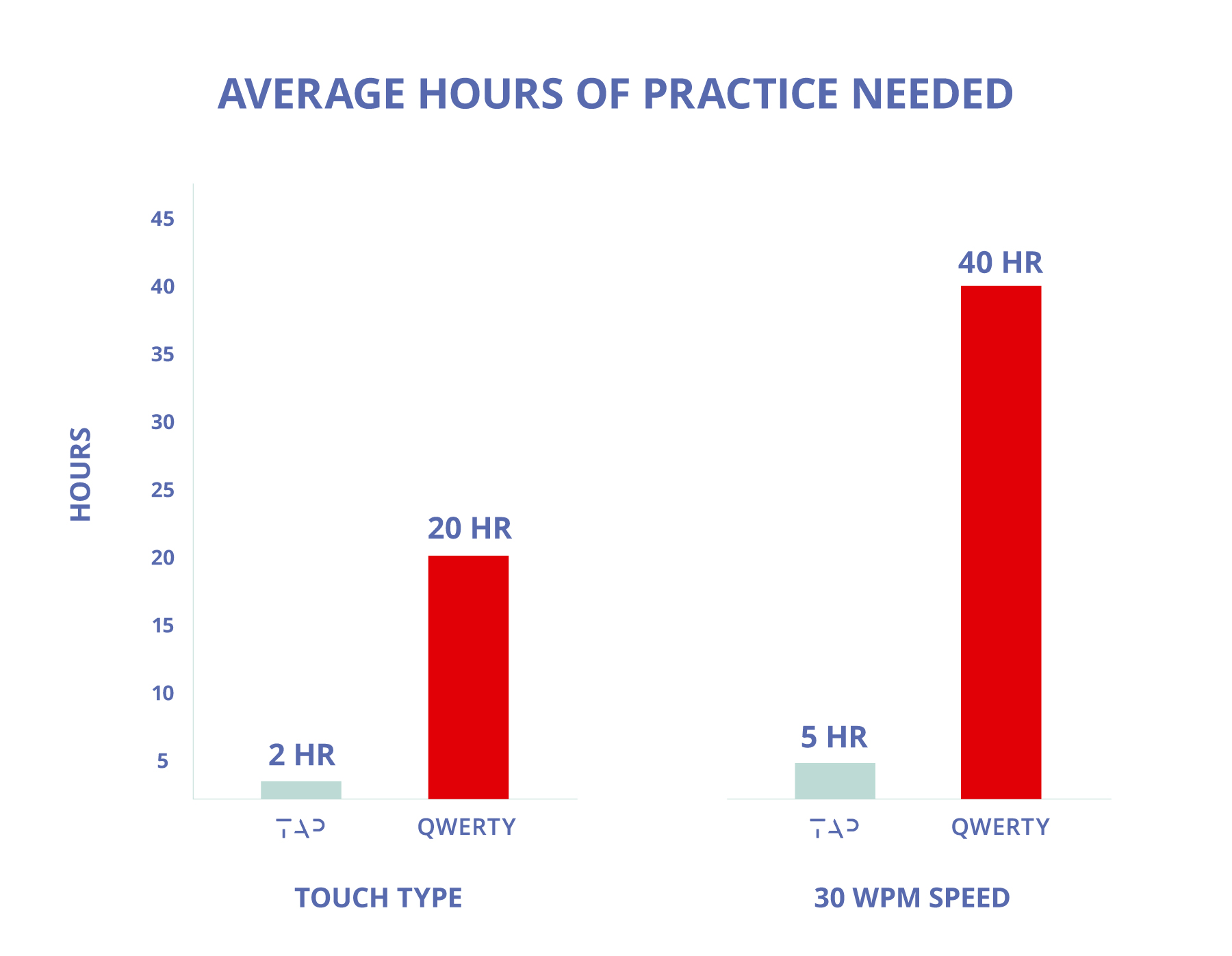 Who's already using Tap?
Because Tap is such a versatile, all-in-one wearable we've seen many different types of users adopt and incorporate it into their day-to-day routines.
From professionals working at top Fortune companies that use Tap to control presentation, take notes, and control commercial applications. through users who have suffered with endless back or wrist pain associated with traditional typing and have spent thousands of dollars on "ergonomic" solutions that just don't work. To field technicians and factory workers looking for better ways to take inventory, write papers, edit spreadsheets and input on the go.
From students looking to easily take notes and present, to gamers looking to improve their game play all the way to performers looking to activate sounds, lighting and even puppets.
Tap is used by people all over the world at any age group and across every industry.
Many of our tappers are:
Professionals
Developers
Gamers
Language learners
Children
Blind/Low vision users
One-handed users
Musicians
Gadget lovers
Corporations
Inside The Box – Tap Strap 2
1 x All-In-One Tap Strap
Wearable Keyboard, Mouse & Controller
Made out of Soft Touch TPU
10 Hours of Operation
Splash Proof
Comes in size Large or Small to adapt to most hand sizes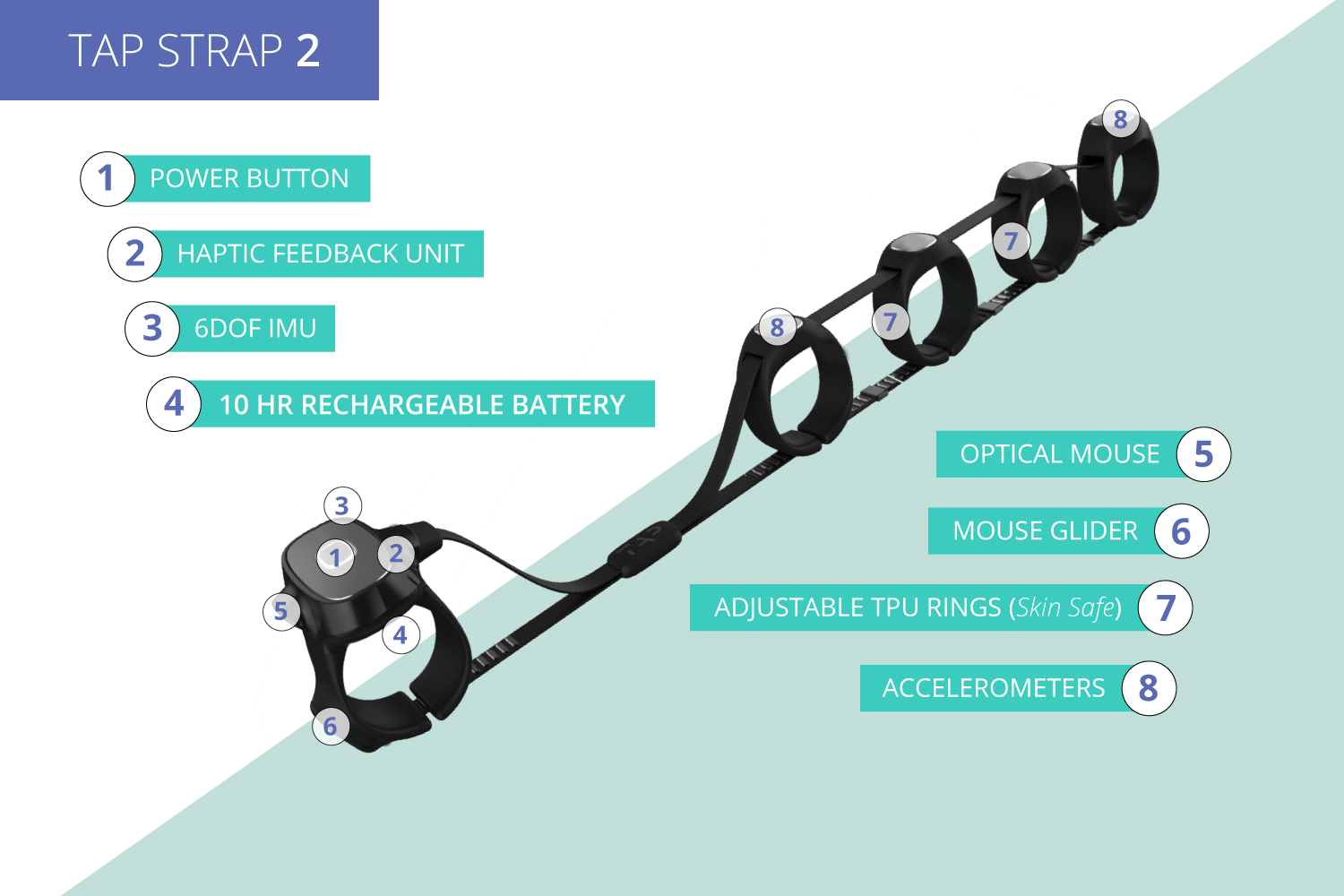 Inside The Box – The Charging Case
1 X Magnetic & Protective Charging Case
Recharge your Tap via pogo pins
Recharge the case using microUSB cable (included!)
370ma Internal Battery
Holds enough power to recharge your Tap 8 Times
Fits in most pockets
Inside The Box – Tap Apps
TapManager Mobile App
(Android & iOS) – Use TapManager to customize your Tap's setting, download the latest firmware updates, and upload your custom maps. This powerful tool has everything you need to make your Tap unique to you.
TapGenius Learning System
(Android, iOS) – Backed by Stanford language & memory research, TapGenius provides a fast and easy ways to learn the Tap Alphabet. In under 2 hours, you will be tapping all letters, numbers, and symbols – and you'll have fun while doing it!
TapAcademy Learning App
(Android, iOS) – Once you've mastered the Tap Alphabet, take your tapping skills to the next level with TapAcademy. Designed to boost your WPM, TapAcademy uses 30 days of fun drills and typing games to help you tap even faster. The average tapper doubles their WPM in just 14 days of playing TapAcademy.
TapAloud Mobile App
(iOS) – TapAloud is our TapGenius learning system optimized for blind and low vision users. The system breaks the alphabet into 8 voice-enabled learning lessons and takes 2 hours to learn.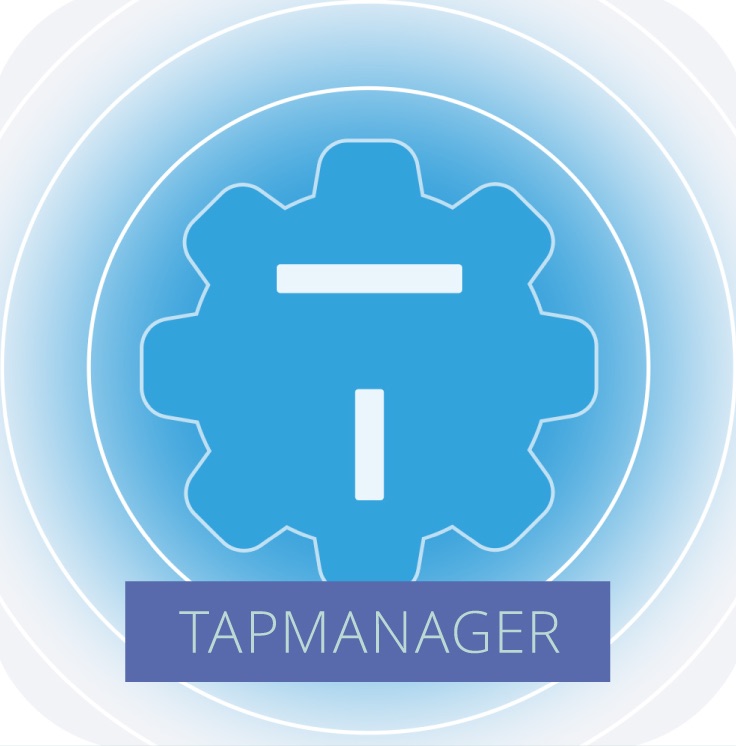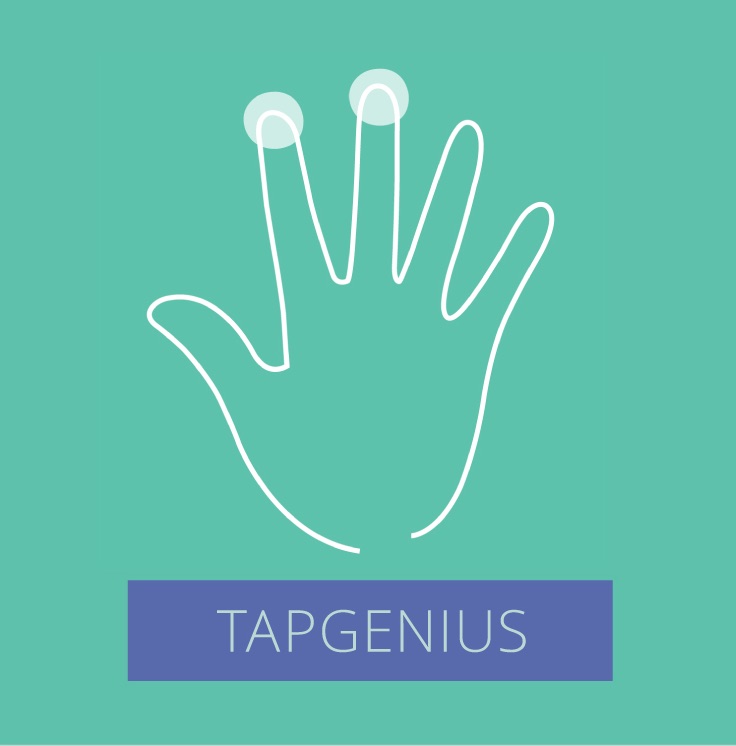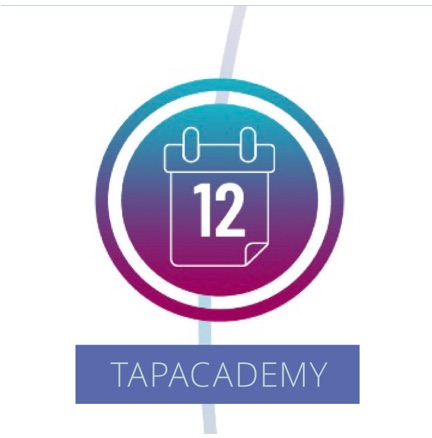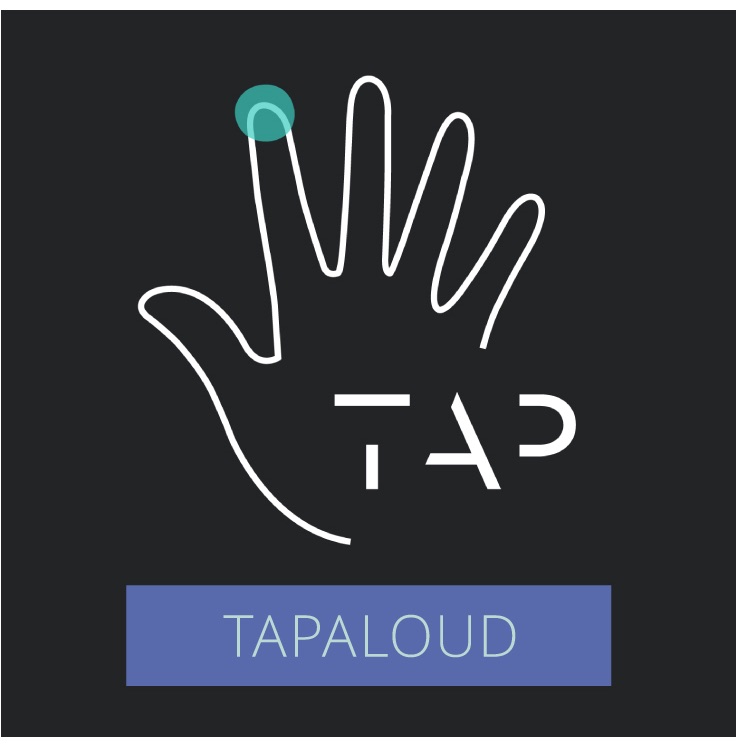 Which Tap Size Should I Order?
To choose the right size for you follow the following steps:
Measure the base of your fingers.
If the width of the base of your fingers is smaller than 57mm or 2.25 inches you should not order a Tap.
If the base of your fingers is between 57mm and 76mm or 2.25 inches to 3 inches you should order a small Tap.
If the base of your fingers is larger than 76mm or 3 inches – you should order a large size Tap.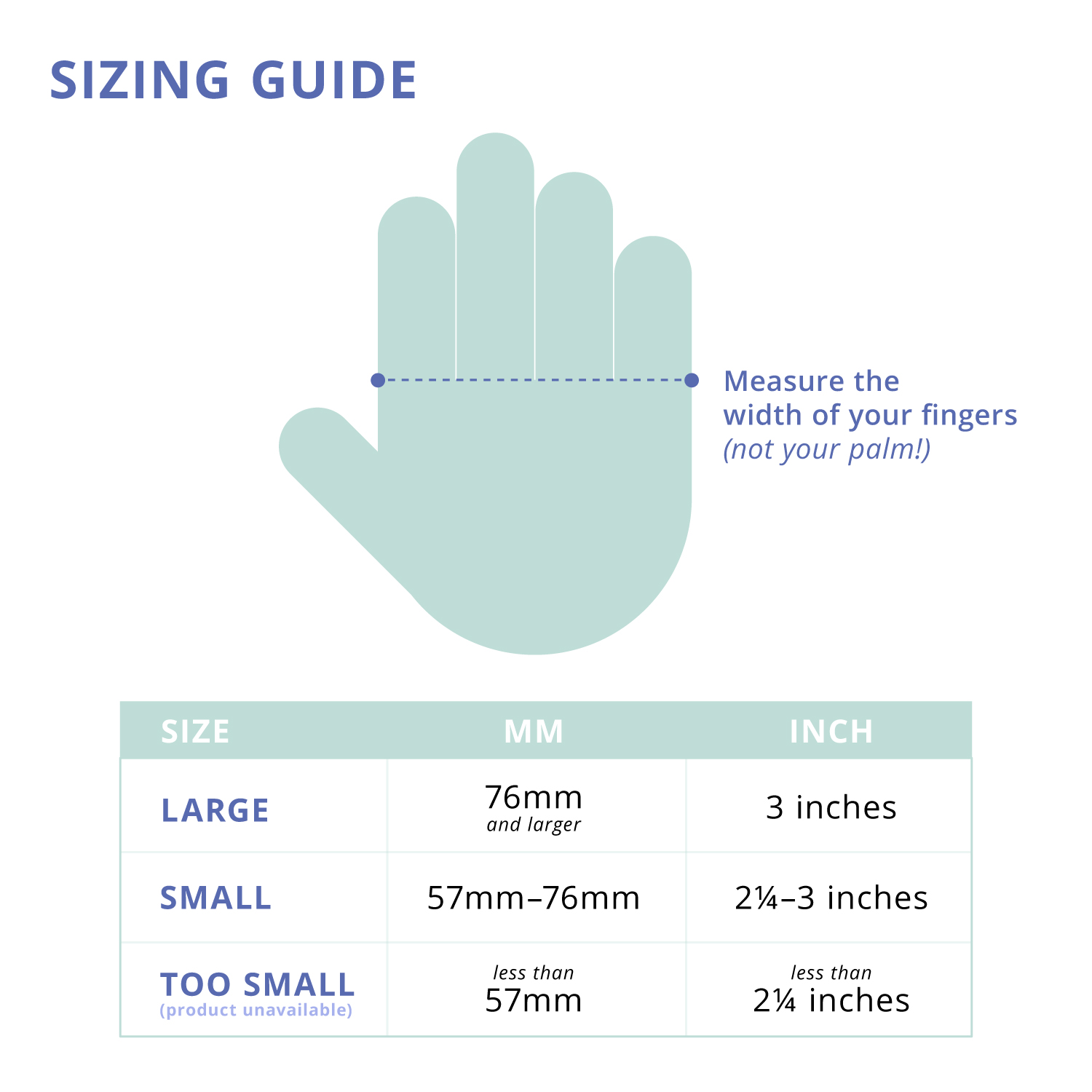 Our Guarantee
Tap comes with a 30 day money back guarantee if you don't absolutely love your device. If for any reason you aren't satisfied, send it back within 30 days for a full refund.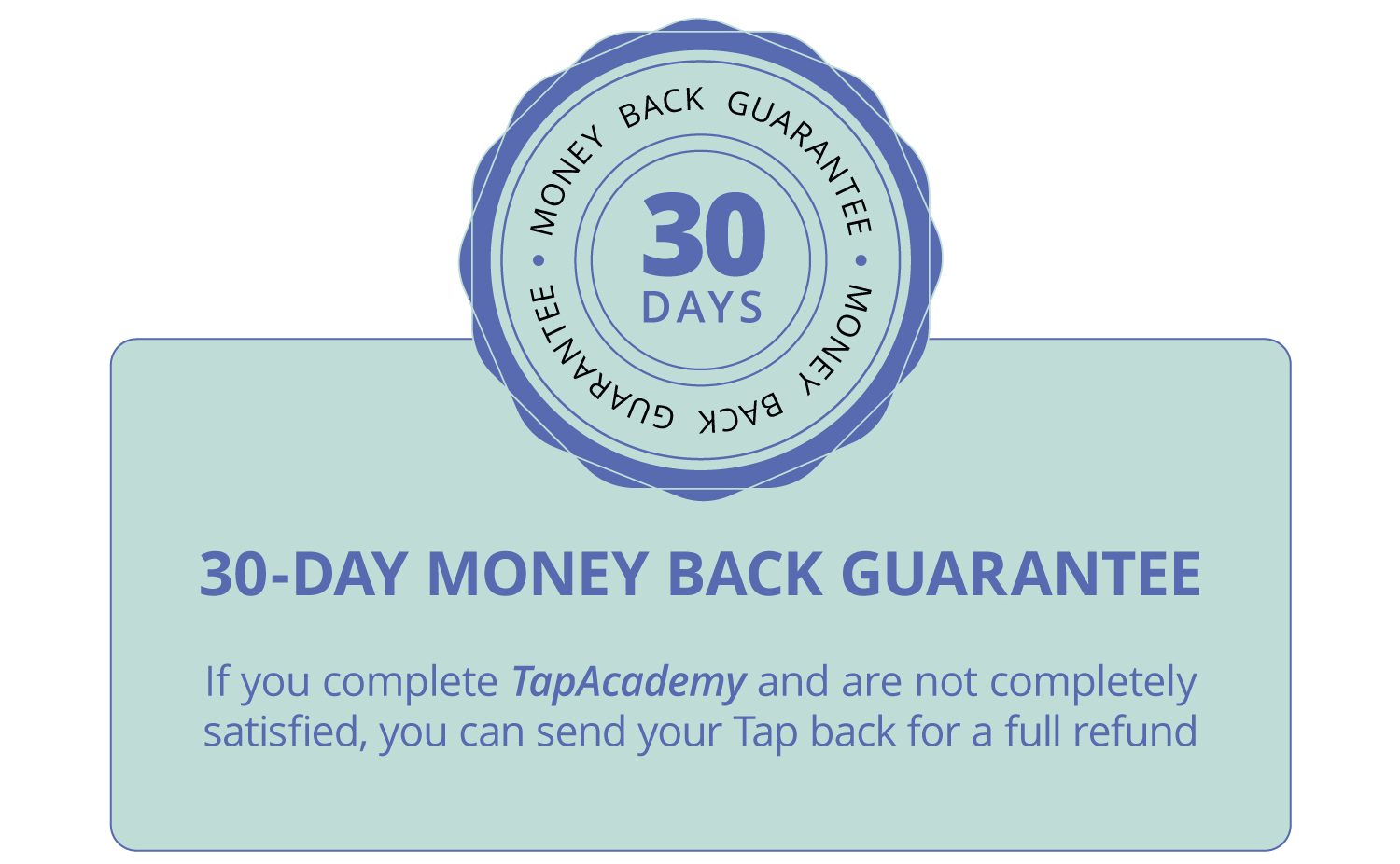 Our Warranty
Each purchase of Tap includes a 1 year warranty that covers any hardware or software failures. This is free and part of our commitment to honest and transparent technology.