Easily Type & Navigate Your Smart TV With Air Gestures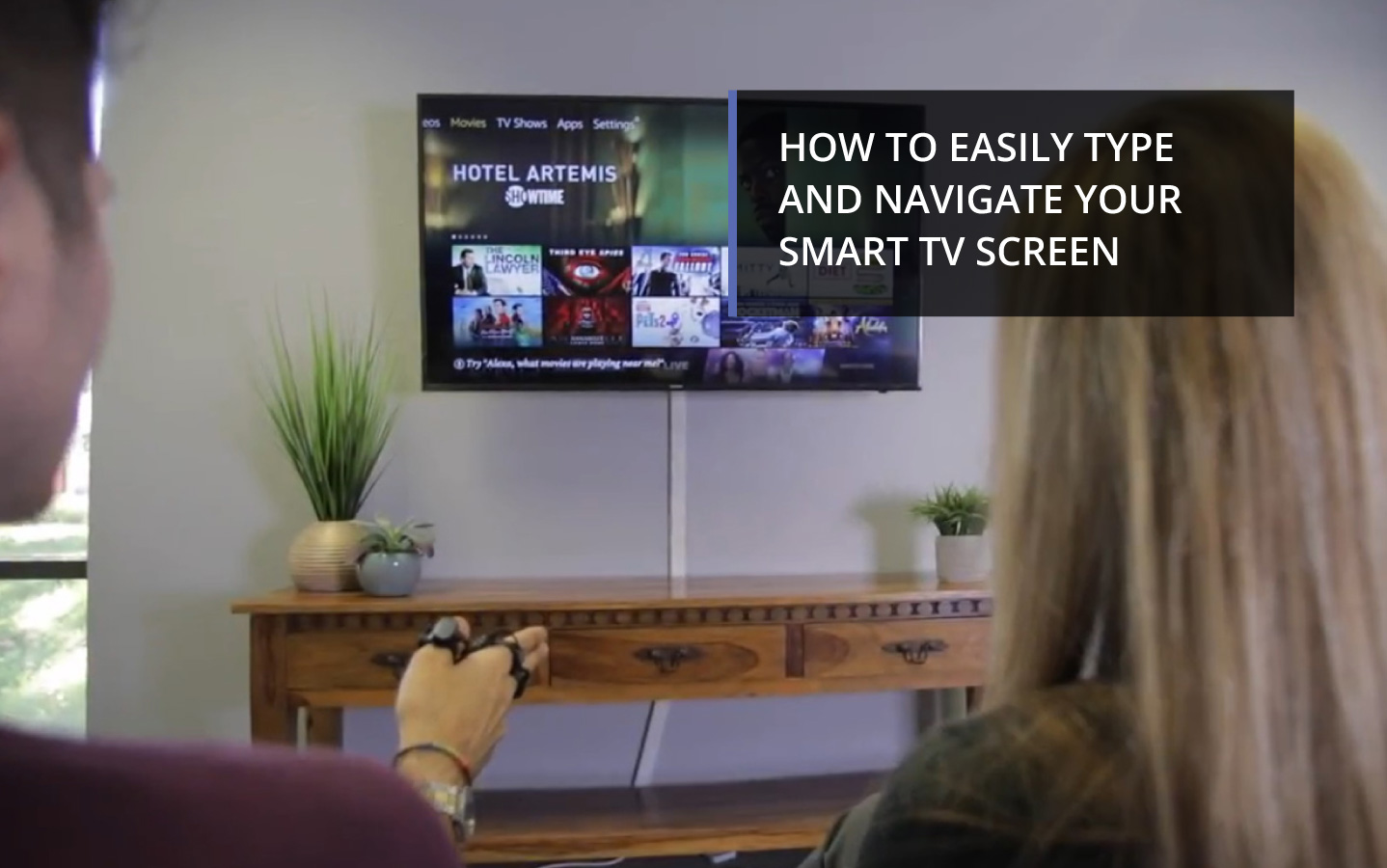 Did you know that many smartTVs are able to pair to the Tap keyboard to more easily navigate through settings, search for content to watch in apps, or enter long strings of text?
I personally have had my fair share of frustration using the built in remote to click letter by letter to do basic things like enter my password into Netflix or search for shows to watch. Using my Tap completely alleviates annoyances like this so I can unwind after a long day.
Another perk of using my Tap with my SmartTV is that I can type on any surface, like my couch cushion or side table with one hand. And since Tap works at any angle, it's much easier to use when relaxing than an external QWERTY keyboard.
In this blog I will walk you through what Tap is, how it works, and how you can use it to easily type and navigate into your SmartTV. Check out this video to see just how easy it is: 
But wait – what is Tap?
Tap is a wearable keyboard, mouse and air gesture controller that allows you to type, control and activate any bluetooth enabled device (not just your SmartTV). While worn on the base of either hand, Tap translates finger tap combinations into keyboard commands. It also has a built in optical mouse and supports various air gestures that provides you with the ability to navigate screens, scroll through content, copy, paste and select content.
How does Tap work?
Tap uses accelerometers that are housed in each finger ring to register what fingers you are tapping and sends the associated letter, number, symbol or command to a paired bluetooth device. When paired, Tap will be recognized as a bluetooth keyboard and mouse, meaning it works with virtually every operating system, app or software that supports input commands. This includes laptops, tablets, cellphones, smartTVs, VR headsets and more. 
How Do I Know What to Type? Is it QWERTY?
Tap is not a QWERTY keyboard, and it doesn't rely on positional tracking – making it very accurate and tactile. Letters are based finger positions, with the most common letters assigned to the simplest inputs. For example, a, e, i, o and u are assigned to the "one finger" position and are inputted by tapping your thumb, index, middle, ring and pinky fingers respectively. 
You learn to Tap using our iOS/Android app, TapGenius, that uses a gamified learning system inspired by research done at the Stanford Memory Lab. Each lesson is 10-15 minutes long and uses mnemonic songs and challenges to teach you what fingers will Tap which letters. There are eight lessons in total, and the average person learns to Tap in just under 2 hours. 
After you learn, we have a daily challenge app called TapAcademy, designed to boost your WPM with a guarantee of 30 WPM in 30 days. Each daily challenge takes about 10 minutes to complete and utilizes competitive games to boost your skills and confidence. 
Here you can see a quick video of Tap inventor and CEO, Dovid Schick, demonstrating how to type with Tap:
How Can I Pair Tap to My SmartTV?
To pair, your TV must support Bluetooth 4.0 pairing. You can check this on your user manual or on the manufacturer's website. 
Ensure your Tap is in pairing mode (as indicated by the LED blinking quickly, similar to a car blinker) – then navigate to your TV's settings. In your settings you will see an option to add a device, it may be under a sub-menu. Select the Tap from your list of available devices and pair. Once successful, the LED on the Tap will breathe slowly. 
How Do I Use the Tap with My TV?
Now that you are paired, you can use Tap as a text input device in any search or navigation bar. This includes the web browser. Some SmartTVs also have keyboard shortcuts for common controls like volume, mute, play, and pause. You can add these shortcuts to your Tap using TapMapper.
How can I create my own TapMap Using TapMapper?
Tap can be customized in two ways; with our open-source SDKs and our easy online web editor – TapMapper. TapMaps made through our online tool can be saved to a public library for all tappers to use and have access to. We already have hundreds of apps for different languages, developers, software, productivity tools and games, which are available to browse here: https://map.tapwithus.com/. 
These customizations can range from basic characters to macro strings to activate complex controls with simple finger taps. Our tool makes it easy for anyone of any skill level to create a truly unique customization to meet their needs. You can find a detailed walkthrough of how to use TapMapper and build your own keybinds in this support article: https://support.tapwithus.com/hc/en-us/articles/360035469773-How-to-Use-TapMapper-to-Customize-Your-Tap
Once your custom map is done, you can save it as public or private and install it via a one-click download using the TapManager app. Maps are stored in the memory of your Tap and will carry over through any paired device. You can swap in and out of your map at any time using the command switch (fingers 3, 4 and 5) then the letter c (fingers 1, 3, 4 and 5). When swapping, you will also feel a short haptic to let you know that you are ready to go!
What About Online TV Apps? Like Netflix?
Since Tap can be paired to any Bluetooth device, you can also use it with your content apps that have mobile, tablet, or web versions. We have existing maps for the most popular apps like Netflix, YouTube, Amazon Prime, and Hulu, which you can download with the TapManager app as described above.
Mousing and AirMousing
Tap also has a 1,000 DPI optical laser mouse that is located on the thumb ring. It is activated by placing your thumb on a surface using the thumb rest designed for comfort and ergonomic support. It's similar to holding an invisible mouse.
With the mouse you can left, right and middle click, drag and drop, and scroll quickly on a page. When you are done mousing, simply lift your thumb off the surface to swap back into keyboard mode without any delay. 
Tap's newest feature, AirMousing, allows you to also use gestures to control the mouse by moving your hand. In AirMouse mode you use directional commands to left and right click, scroll and swipe. 
Where can I get a Tap Strap?
You can order Tap for $199 USD online on tapwithus.com or on Amazon.